Introduction To Khama Rhino Sanctuary
The Khama Rhino Sanctuary (KRS), located 25 kilometres north of Serowe is an Africa safari sanctuary in Botswana, the best conservation site for both white and black rhino viewings. In 1993, it was formally established to reintroduce rhinos into Botswana and gain the state of the sanctuary as a sustainable habitat for wildlife and rhino's specifically. It was named after Serestse Khama, who led Botswana into independence in 1965. The idea of the rhino sanctuary was initiated by a group of Serowe inhabitants who aimed to sustain the survival rate of the rhinos in its natural habitat. They also intended to bring benefits to the community through tourism. The safety of this remarkable Botswana safari sanctuary is highly expected as the area is situated near the Botswana Defense Force that gives a 24/7 protection to the rhinos. They wanted to safeguard a sanctuary that could eventually be noted as one of the best rhino protection sanctuaries in Africa. It is also an education centre aimed at teaching children and local population the importance of natural resources conservation. Khama Rhino Sanctuary covers 4300 hectares of Kalahari sand veld.

This Botswana safari sanctuary also boasts of the Serowe Pan, a depression found at the centre of the sanctuary and terrain that is dotted with smaller pans of water across the area. The sanctuary grew from 14 white rhinos and 2 black rhinos into a total of 34 rhinos due to birthing and translocation of some into the sanctuary. It is home to over 200 bird species, making it perfect for avid bird watcher. Blue wildebeest, gemsbok, springbok, red hartebeest eland, giraffe and zebra are also inhabitants of this beautiful natural habitat. Steenbok, kudu, duiker, porcupine, lynx, bat-eared fox and wild cats are sighted in the reserve. The sanctuary makes a perfect African safari haven close to Serowe with its various activities. The sanctuary offers a Khama Rhino safari trails that are best for nature walks assisted by an experienced and knowledgeable ranger coupled with game drives within the sanctuary. A visit to this Africa Safari wilderness would immensely help in the sustainability of the sanctuary and rhinos in Africa.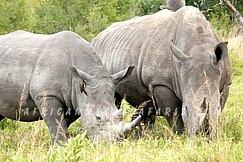 AFRICANMECCA REVIEWS
What are our Customers saying about our safari holidays?
On behalf of myself, my wife and my two adult daughters, I want to sincerely thank you and AfricanMecca Safaris for our fabulous recent safari. Everything you promised exceeded our expectations and was superb, which is saying a lot since this was our second trip, having had a wonderful Botswana Safari 10 years ago. Do not ever hesitate to use me as a reference.

Robert Schenkein - prVision Photography Studio - Colorado, United States

Chobe was delightful, less than half full. Sussi and Chuma, very nice, again only 13 people in all. All the game drives and river cruises were excellent. We had great weather. The ability to get really close is in inspiring. EVERYWHERE we went, the people were warm, helpful and charming. Thank you so much. We will be recommending your services to all.

Thomas Kelch - California, United States

Raza Visram at AfricanMecca planned the most amazing trip for my friend and I. I wanted to go to 4 countries in 15 days and he made it happen. It was an aggressive itinerary and Raza planned it so well, that the transitions were seamless. The last leg of the trip was Botswana for another Safari and we stayed at the most beautiful lodge. The excitement in seeing the animals so closely is indescribable.

Karin Alsdorf - New Jersey, United States

I had a wonderful trip to Africa and I would highly recommend your company.I have been to Africa many times and I have never had such wonderful service. The guide and safari vehicle were both great and all the lodges were outstanding. We will be going to Africa again the year after next and I assure you I will be contacting you. Thanks again for arranging such a great trip.

Ronald Price, President, Ron Price Motors Group - California, United States

Our Botswana safari was FANTASTIC! It truly was a luxury, but rustic enough, safari. We really loved our trip! We saw everything here. From lions to leopards to elephants to buffalos. Our guide, Rams was truly amazing. He really knew his stuff! While on the bush walks we encountered zebras, warthogs and much more. Thanks for your help! We will definitely do another trip within a year.

Duncan Rosen - Florida, United States

Thank you for everything; we had an amazing honeymoon. Words really can't describe our experience, all we can really say was that it was the most amazing experience of our lives and we would recommend AfricanMecca to anyone. We hope to visit Africa again sometime next year! Thank you & all of your staff for an amazing & perfect honeymoon.

Rick Sagoo - London, United Kingdom
CONTACT AND TALK TO OUR BOTSWANA TOUR EXPERTS TODAY TO START YOUR TRIP PLANNING PROCESS
Request Botswana Custom Or Tailor-Made Safari Vacation Pricing Based On Your Specific Travel Dates At Your Preferred Safari Tier Lodge Or Camp
CONTACT AN EXPERT ON BOTSWANA SAFARI PRICES & TOURS