Introduction To Tsodilo Hills
In northwestern Botswana, rises one of the best rock paintings destinations in Africa. The Tsodilo dubbed as the "Mountains of the Gods" in San culture and also the "Bracelet of God". A UNESCO World Heritage Site, Tsodilo is one of the highest points in Botswana as a relatively flat country, and a peculiar place shrouded with mystic and fascinating history. Tsodilo Hills got its name from the Hambukushu word 'sorile', which means "sheer." There are four main hills, the highest of which is at 400 metres, the male hill. The three main hills are referred to as male, female, child, and the fourth is named as the grandchild. Tsodilo is the ''Louvre of the Desert'' as it has a record of 4500 ancient rock paintings, many of which were painted by San people with a few by Bantu speaking Hambukushu tribe. The Tsodilo Hills is renowned as one of the world's most famous rock art locations. It features paintings that are dated thousands of years ago. It is a perfect place to supplement your African safari in Botswana with its ancient, religious and spiritual significance held most sacred by the San people.

Tsodilo offers majestic hills emerging from the serene Kalahari Desert. The Kalahari is full of San culture myths and legends as the original birthplace of man. It is the abode of the serpent-monster, and the final resting place of the gods. The spirits of the deceased rest there too. The male hill - the biggest rock is where the first spirit knelt and prayed after creation. The water near the hills is sacred and bestows a sizeable fortune to those who use it. The smaller hill, the child is from the first wife of the male hill abandoned for a younger woman. This culture-rich Botswana safari in Tsodilo has attracted historians and archaeologists from all over the world. Most of the paintings are located at the female hill with the famous "Whale", Two Rhinos and the Lion". There are numerous other paintings that can be challenging to find thus the need for a local and experienced rock paintings guide who can share the history of the Tsodilo and show paintings whereabouts. Rock art paintings Botswana safaris to Tsodilo Hills brings one to the core of an ancient world where you can feel the pure essence of life thousands of years ago. Archaeological explorations have found ancient tools and personal items dating 90000 years back from shell beads, iron, carved bone pottery, glass beads to stone tools. Due to its historical and cultural significant, UNESCO crowned Tsodilo Hills in December 2001 as a World Cultural Heritage site.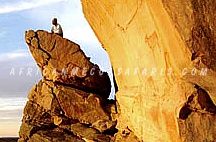 AFRICANMECCA REVIEWS
What are our Customers saying about our safari holidays?
On behalf of myself, my wife and my two adult daughters, I want to sincerely thank you and AfricanMecca Safaris for our fabulous recent safari. Everything you promised exceeded our expectations and was superb, which is saying a lot since this was our second trip, having had a wonderful Botswana Safari 10 years ago. Do not ever hesitate to use me as a reference.

Robert Schenkein - prVision Photography Studio - Colorado, United States

Chobe was delightful, less than half full. Sussi and Chuma, very nice, again only 13 people in all. All the game drives and river cruises were excellent. We had great weather. The ability to get really close is in inspiring. EVERYWHERE we went, the people were warm, helpful and charming. Thank you so much. We will be recommending your services to all.

Thomas Kelch - California, United States

Raza Visram at AfricanMecca planned the most amazing trip for my friend and I. I wanted to go to 4 countries in 15 days and he made it happen. It was an aggressive itinerary and Raza planned it so well, that the transitions were seamless. The last leg of the trip was Botswana for another Safari and we stayed at the most beautiful lodge. The excitement in seeing the animals so closely is indescribable.

Karin Alsdorf - New Jersey, United States

I had a wonderful trip to Africa and I would highly recommend your company.I have been to Africa many times and I have never had such wonderful service. The guide and safari vehicle were both great and all the lodges were outstanding. We will be going to Africa again the year after next and I assure you I will be contacting you. Thanks again for arranging such a great trip.

Ronald Price, President, Ron Price Motors Group - California, United States

Our Botswana safari was FANTASTIC! It truly was a luxury, but rustic enough, safari. We really loved our trip! We saw everything here. From lions to leopards to elephants to buffalos. Our guide, Rams was truly amazing. He really knew his stuff! While on the bush walks we encountered zebras, warthogs and much more. Thanks for your help! We will definitely do another trip within a year.

Duncan Rosen - Florida, United States

Thank you for everything; we had an amazing honeymoon. Words really can't describe our experience, all we can really say was that it was the most amazing experience of our lives and we would recommend AfricanMecca to anyone. We hope to visit Africa again sometime next year! Thank you & all of your staff for an amazing & perfect honeymoon.

Rick Sagoo - London, United Kingdom
CONTACT AND TALK TO OUR BOTSWANA TOUR EXPERTS TODAY TO START YOUR TRIP PLANNING PROCESS
Request Botswana Custom Or Tailor-Made Safari Vacation Pricing Based On Your Specific Travel Dates At Your Preferred Safari Tier Lodge Or Camp
CONTACT AN EXPERT ON BOTSWANA SAFARI PRICES & TOURS