Introduction To Makgadikgadi Pans National Park
Makgadikgadi Pans National Park is a unique safari destination in Africa, and one of Botswana's offbeat and contrasting park when compared to the popular Moremi in Okavango Delta or Chobe. It is located south-east of the Okavango Delta within the Kalahari Desert ecosystem. The Makgadikgadi Pans are salt pans that approximately cover an area of 12000 sq. km, a remnant of the famous and ancient Lake Makgadikgadi that was once larger than Switzerland drying up thousands of years ago. Today, the Makgadikgadi National Park boundary measures up to around 3900 sq. km stretching up from the western end of its extensive grasslands and acacia woodland to the northern boundary where it meets up Nxai Pan National Park, divided only by the Nata- Maun Road. The ancient lake reduced in size as a result of geologic processes, which were assumed as a result of warping and tectonic activities. These had caused the lake to form large and small shorelines progressively that gave beauty to the pans. The park gets water mainly from the Nata, Tutume, Semowane and Mosetse Rivers in the east with a small amount from the western Boteti River outflow sourced from the Okavango Delta. The Makgadikgadi is not a one large pan; it is composed of many pans that dotted the whole of the area bordered from each other within its arid desert i.e. Sowa to the east, Nwetwe to the west followed by Nxai, Baines's Baobabs and Kudiakam Pans – all being part of the complete Makgadikgadi Pan ecosystem. The pans are dry for the most part of the year, and they form a layer of salty clay that gets hardened by the sun's heat during the dry season. The pans occasionally get watered during the rainy season that transforms these pans into excellent habitat for wildlife. As one of the largest salt flats in the world, Makgadikgadi Pans was recognized as a game reserve in 1970. In 1992, it was declared a national park and its coverage was extended.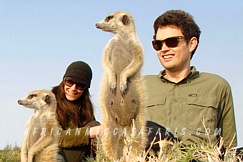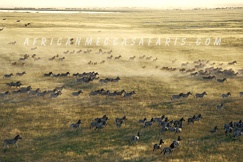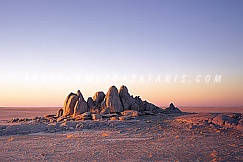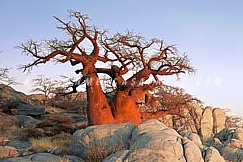 AFRICANMECCA REVIEWS
What are our Customers saying about our safari holidays?
On behalf of myself, my wife and my two adult daughters, I want to sincerely thank you and AfricanMecca Safaris for our fabulous recent safari. Everything you promised exceeded our expectations and was superb, which is saying a lot since this was our second trip, having had a wonderful Botswana Safari 10 years ago. Do not ever hesitate to use me as a reference.

Robert Schenkein - prVision Photography Studio - Colorado, United States

Chobe was delightful, less than half full. Sussi and Chuma, very nice, again only 13 people in all. All the game drives and river cruises were excellent. We had great weather. The ability to get really close is in inspiring. EVERYWHERE we went, the people were warm, helpful and charming. Thank you so much. We will be recommending your services to all.

Thomas Kelch - California, United States

Raza Visram at AfricanMecca planned the most amazing trip for my friend and I. I wanted to go to 4 countries in 15 days and he made it happen. It was an aggressive itinerary and Raza planned it so well, that the transitions were seamless. The last leg of the trip was Botswana for another Safari and we stayed at the most beautiful lodge. The excitement in seeing the animals so closely is indescribable.

Karin Alsdorf - New Jersey, United States

I had a wonderful trip to Africa and I would highly recommend your company.I have been to Africa many times and I have never had such wonderful service. The guide and safari vehicle were both great and all the lodges were outstanding. We will be going to Africa again the year after next and I assure you I will be contacting you. Thanks again for arranging such a great trip.

Ronald Price, President, Ron Price Motors Group - California, United States

Our Botswana safari was FANTASTIC! It truly was a luxury, but rustic enough, safari. We really loved our trip! We saw everything here. From lions to leopards to elephants to buffalos. Our guide, Rams was truly amazing. He really knew his stuff! While on the bush walks we encountered zebras, warthogs and much more. Thanks for your help! We will definitely do another trip within a year.

Duncan Rosen - Florida, United States

Thank you for everything; we had an amazing honeymoon. Words really can't describe our experience, all we can really say was that it was the most amazing experience of our lives and we would recommend AfricanMecca to anyone. We hope to visit Africa again sometime next year! Thank you & all of your staff for an amazing & perfect honeymoon.

Rick Sagoo - London, United Kingdom
CONTACT AND TALK TO OUR BOTSWANA TOUR EXPERTS TODAY TO START YOUR TRIP PLANNING PROCESS
Request Botswana Custom Or Tailor-Made Safari Vacation Pricing Based On Your Specific Travel Dates At Your Preferred Safari Tier Lodge Or Camp
CONTACT AN EXPERT ON BOTSWANA SAFARI PRICES & TOURS