Reasons On Why To Travel To Botswana For A Safari Vacation
When we ventured on this small project to describe what the Top 10 reasons are for our guests to visit Botswana, we contemplated attentively at the plethora of specific reasons. We wanted to designate as much as possible but limit the number to 10. We had a suggestion from Altaf Visram, Sales & Reservations Director at AfricanMecca Safaris that termed the country's offerings compared to other African destinations in one sentence:
"Botswana, the shining star of Africa".
Here are the experiences that deeply connected us to Botswana and what the experience can be for you:
FOR FURTHER GUIDANCE ON BOTSWANA SAFARI PLANNING, PLEASE

CONTACT US

.
1. WORLD FAMOUS OKAVANGO DELTA - THE WORLD'S LARGEST INLAND DELTA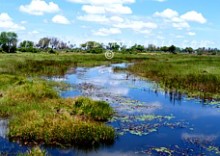 The Okavango Delta is Africa's premier safari destination. It is dubbed as the jewel of the Kalahari being blessed with a unique ecosystem serving as an oasis for its inhabitants. It has a tremendous diversity of flora and fauna bringing color to the Delta. It is populated by mopane, swathes of papyrus, groves of wild date palm, acacia, woodland etc. from the tongue of the mopane to Chief's Island and around the whole of the delta. Along with beautiful water channels, lagoons and islands are trees, shrubs and bushes of various species. It is home to over 200,000 animals that roam its wilderness areas giving color to the whole Delta and Moremi Reserve. You will find leopard, rhino, zebra, lechwe, giraffe, lion, monkey, antelope, crocodile, hippo, elephant, buffalo, hyena, impala, reedbuck, tsessebe, wildebeest and many more. There are also over 400 kinds of birds such as the African Eagle, Hammerkop, Ostrich, Crested Crane, elusive Pel's Fishing Owl, Lilac Roller etc. gracing the heavens and the wilderness of the Delta. To top it all, the Okavango Delta has the best and most diverse safari activities Africa can offer i.e. from mokoro safari, game walks, boating safari, fishing, sunset cruises to the traditional game driving safaris.
2. LOW VOLUME VISITOR OFFERING UNINTERRUPTED, UNADULTERATED WILDLIFE WATCHING & PHOTOGRAPHIC SAFARIS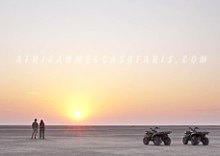 The tourism brand of the country "Africa's Best Kept Secret" is founded on the protection of its delicate environment and the pursuit of consistent sustainable development for the people of Botswana. The logic is explained by AfricanMecca's simple Safari Math Equation i.e. lower cost safari destination = swarm of tourists = environmental and wildlife damage so the opposite had been initially sought and endorsed by Batswana tourism policy makers. Fewer numbers of tourists would not put so much pressure on the environment and its wildlife, thereby strengthening environment-friendly measures that protect and preserves its wilderness habitats. This has led to Botswana's high-value-low-volume tourism policy that bolsters the regulation of visitors to its virgin wilderness areas by offering an uninterrupted, unadulterated wildlife watching and photographic safaris. The absence of a large or mass crowd in Botswana's game reserves and wildlife concessions has given the high-paying tourists the best opportunity for superior quality game viewing experiences. Visitors will be treated to an exclusive encounter with untouched wilderness enjoying the feeling of solitude while watching wildlife in their natural habitat!
3. SPECIALIZED BOTSWANA WATER-BASED SAFARI ACTIVITIES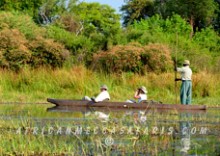 For visitors who want a unique, discerning and relaxing safari experience, Botswana offer's the finest water-based safari activities in Africa. Take a safari onboard a mokoro, (traditional dugout canoe) absorbing the delightful vistas around you. Expert guides and polers ensure your safety as you observe life in air, water and land. As another option, visitors can also experience a boating safari that rides through a network of waterways traversing the lagoons, channels and swamps scattered all over the Okavango Delta, Savute Channel, Linyanti, Kwando and the Chobe Rivers. It is an excellent chance to get near wildlife and see different terrestrial and aquatic features of the Delta: from open floodplains to lagoons composed of many islands. You end your day with the African sunset glowing and offering its last brilliance for the day as you take a calming trip down the meandering waterway with a cocktail in your hand.
4. ANCIENT ROCK ART PAINTINGS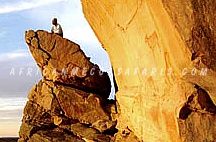 The Tsodilo Hills was named as one of UNESCO's World Cultural Heritage site for having prehistoric rock art paintings. Some 4500 rock paintings are found here. The four main hills are called male, female, child and grandchild. While the male hill is highest at 400 meters, the female hill has the most ancient rock art paintings, including the well-known "Whale", Two Rhinos and the Lion". Expert tour guides help people find interesting paintings that otherwise may be missed. The Tsodilo Hills are dubbed by San people as the "Mountains of the Gods" and is considered sacred. Visitors will be exposed to the San people's religion and culture, an experience at the center of an ancient civilization just as deep and significant as wildlife safaris.
5. CHOBE ELEPHANTS & EASY ACCESSIBILITY TO VICTORIA FALLS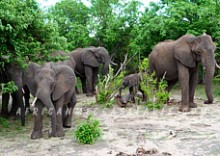 Chobe National Park is Botswana's first national park, spanning thousands of square kilometers. Visitors are enticed by hundreds of thousands of African elephants that congregate in the park. The elephants move about according to the seasons so catching them at the right time at the Chobe riverbank requires specialist knowledge and planning. Although game viewing is great most of the year, the best time is in the dry winter season as thinning foliage makes it easier to see game. Birds and other animals such as zebras and buffaloes also come for water in this season. For another beautiful and majestic attraction at its neighboring wildlife kingdom, head out for a day trip to the Victoria Falls just a couple of hours away. Listen to the thundering waterfall more than a kilometer wide during the high waters. At the peak flood season in March and April, amazing columns of water are visible for kilometers away.
6. BOTSWANA IS A HOT SPOT FOR FILMING GAME BY NATIONAL GEOGRAPHIC RESEARCHERS & FILMMAKERS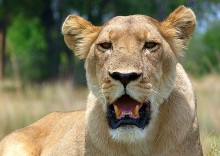 National Geographic has staged many filming activities in Botswana. Conservationist and educational films take advantage of the teeming wildlife and unspoiled natural environment. Lions, leopards, zebras, rhinos and elephants - filmmakers and researchers let people know about their stories of survival and the dangers they face. The husband and wife team of Dereck and Beverly Joubert (part owners of Selinda Reserve) caught worldwide attention on their films that were shown in National Geographic and Walt Disney Pictures. Their efforts produced 22 films that were all taken and filmed in Botswana, 6 scientific papers, 10 books and numerous articles on the National Geographic magazine. These works have earned the couple several awards. Their latest documentary, "The Last Lions" was filmed in the Okavango Delta. The story revolves around a single lion mother who has to protect her young from the harshness of the environment, as well as the other lions and enemies! Experience wildlife films in real life in Botswana. Having a safari among Botswana's wildlife is nothing short of cinematic..
7. UNIQUE ECOSYSTEMS OF MAKGADIKGADI PANS & CENTRAL KALAHARI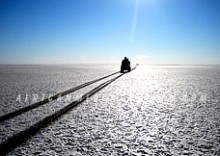 The intricate pan shapes of the Makgadikgadi were formed over eons from the shrinking of an ancient lake. With its seemingly dead lands, the salt pans are in sharp contrast to the Okavango Delta's explosion of life. It uniquely supports complex ecosystems of palms and baobab trees as well as seasonal wildlife when the rains come. In the wet summer season, visitors witness the overwhelming sight of zebra and wildebeest migration. The dry winter season offers visitors the chance to use quad bike over the moon-like salt pans. Wait for the stars come out in a breath-taking display to complete the earthly experience. Another unique ecosystem can be found in the Central Kalahari, the second biggest game reserve in the world. Despite being in the middle of the Kalahari Desert, trees, shrubbery and bushes decorate the area and colorful flowers come with the summer rains. Visitors come to the Deception Valley where the river is not as full as your eyes tell you. Central Kalahari is populated with a large number of gemsbok, springbok and wildebeest. There are also predators such as lions, cheetahs, jackals, leopard, hyenas, wild dog and many others. Plains game such as eland, duiker, kudu, giraffe, warthog, red hartebeest are also inhabitants of the place from December to April when the animals converge on the water source.
8. DIVERSITY OF SAFARI ACTIVITIES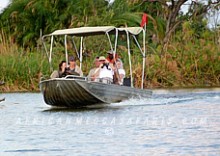 Unlike other safari destinations offering traditional game driving experiences, Botswana offers highly diversified and specialized safari activities. Whichever you choose, there is action in store in each activity you opt to take on i.e. from mokoro safari, game walks, boating safari, fishing, and sunset cruises to the traditional game driving safaris. Game viewing during mornings gets you acquainted with a myriad of species as the day welcomes a restart of their survival in day broad light. In the afternoons, the avi-fauna and land-fauna begin to take a nap and; at night, nocturnal species are heard and encountered. There is fishing for relaxation and; safari on the waterways onboard traditional mokoro or motorboats for closer aquatic and terrestrial encounters with nature. You can even have a walking safari to examine details of animal life in person embracing all sights including tracks, smells and sounds around you. Every nature lover's desire is fulfilled in Botswana.
9. BOTSWANA SMALL HIGH QUALITY SAFARI CAMPS & LODGES OFFERING PERSONALIZED ACCOMMODATION SERVICES & GUIDING SERVICES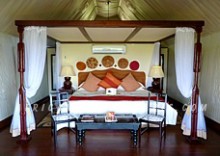 Botswana's high-value-low-volume tourism policy and the pursuit of consistent sustainable development have led to the creation of smaller rooming capacity of Botswana safari camps and lodges offering the highest quality of accommodation and activity services to its guests with the utmost attention to all details and preferences. Luxury and nature are meshed together in small camps with only up to a dozen rooms with an average of eight. These accommodations are lavishly furnished with modern amenities and tastefully crafted native decorations. You certainly get what you pay for: personalized service; professional guided safaris under experienced, expert tour guides and; tasty and sumptuous meals. Visitors will surely feel the extreme luxury comforts beyond home. Every concern is taken care of for you. All that is left is to marvel at the beauty of Botswana's nature. NOTE: Batswana tourism policy makers have fairly distributed a mixed leased allocation of land to a variety of accommodation suppliers thus not favoring any specific one in getting all the best locations. In 2011, for the 15th time in a row, Transparency International has ranked Botswana the least corrupt country in Africa, and is additionally rated among the best in the world for having moved 5 places from 2010. It is equally important to select guidance of AfricanMecca specialist safari planner for knowledge and expertise in selecting the best location and safari camp/lodge for your Botswana safari so as to maximize your wildlife viewing. AfricanMecca's second Safari Math Equation: best luxury camp != does not equal to best wildlife location. Having the best camp or lodge aesthetically does not necessarily mean the accommodation has higher wildlife concentration based on its location so as to maximize your game viewing. This is why AfricanMecca specialists annually stay at each and every safari camp or lodge we recommend to you so that you have the best safari experience in Africa. We highly recommend reading up on AfricanMecca Botswana Safari Tiers to get an understanding of the safari activity and accommodation experiences you are seeking to achieve as they all differ i.e. quality and size of accommodations, quality of interrelated services in camp or lodge, and safari guiding/activities offered, quality of meals/amenities, ease and convenience of logistics and most importantly, maximum wildlife experiences in the park, reserve or wildlife concession based on the location of the camp or lodge.
10. SECOND LARGEST ZEBRA & WILDEBEEST MIGRATION IN THE WORLD AT MAKGADIKGADI PANS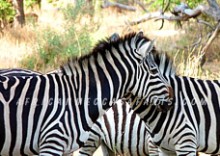 In the dry season, the Makgadikgadi Pans receives the world's second largest zebra and wildebeest migration after the Serengeti - Masai Mara wildebeest migration. During the first months of each year, the landscape becomes green and robust attracting 25000 zebra and wildebeest to the Makgadikgadi Pans. The sheer number of wildebeests and zebra combined with the majestic luscious flora and other fauna evokes a deep feeling of communion with nature of anyone witnessing the scenery. Experience the magnificent sight of the herds seeking water and pasture to survive while distancing away from predators such as spotted and brown hyena, cheetah, lion and leopard. The experiences are endless! The Makgadikgadi National Park is also home to a variety of wildlife like genet, caracal, impala, wildebeest, jackal, bushbuck, brown and spotted hyena, kudu, porcupine, to name but a few. There is also the possibility of seeing the rare white rhinoceros. There are also tortoises, snakes, lizards, rock monitor and spiny agamas that roam the wilderness and give visitors an unforgettable African safari viewing by focusing and appreciating smaller wildlife behaviors in complete seclusion. The Makgadikgadi meerkats are illustrious for their curiosity, and visitors may be able to get up, close and person with them.
AFRICANMECCA REVIEWS
What are our Customers saying about our safari holidays?
On behalf of myself, my wife and my two adult daughters, I want to sincerely thank you and AfricanMecca Safaris for our fabulous recent safari. Everything you promised exceeded our expectations and was superb, which is saying a lot since this was our second trip, having had a wonderful Botswana Safari 10 years ago. Do not ever hesitate to use me as a reference.

Robert Schenkein - prVision Photography Studio - Colorado, United States

Chobe was delightful, less than half full. Sussi and Chuma, very nice, again only 13 people in all. All the game drives and river cruises were excellent. We had great weather. The ability to get really close is in inspiring. EVERYWHERE we went, the people were warm, helpful and charming. Thank you so much. We will be recommending your services to all.

Thomas Kelch - California, United States

Raza Visram at AfricanMecca planned the most amazing trip for my friend and I. I wanted to go to 4 countries in 15 days and he made it happen. It was an aggressive itinerary and Raza planned it so well, that the transitions were seamless. The last leg of the trip was Botswana for another Safari and we stayed at the most beautiful lodge. The excitement in seeing the animals so closely is indescribable.

Karin Alsdorf - New Jersey, United States

I had a wonderful trip to Africa and I would highly recommend your company.I have been to Africa many times and I have never had such wonderful service. The guide and safari vehicle were both great and all the lodges were outstanding. We will be going to Africa again the year after next and I assure you I will be contacting you. Thanks again for arranging such a great trip.

Ronald Price, President, Ron Price Motors Group - California, United States

Our Botswana safari was FANTASTIC! It truly was a luxury, but rustic enough, safari. We really loved our trip! We saw everything here. From lions to leopards to elephants to buffalos. Our guide, Rams was truly amazing. He really knew his stuff! While on the bush walks we encountered zebras, warthogs and much more. Thanks for your help! We will definitely do another trip within a year.

Duncan Rosen - Florida, United States

Thank you for everything; we had an amazing honeymoon. Words really can't describe our experience, all we can really say was that it was the most amazing experience of our lives and we would recommend AfricanMecca to anyone. We hope to visit Africa again sometime next year! Thank you & all of your staff for an amazing & perfect honeymoon.

Rick Sagoo - London, United Kingdom
CONTACT AND TALK TO OUR BOTSWANA TOUR EXPERTS TODAY TO START YOUR TRIP PLANNING PROCESS
Request Botswana Custom Or Tailor-Made Safari Vacation Pricing Based On Your Specific Travel Dates At Your Preferred Safari Tier Lodge Or Camp
CONTACT AN EXPERT ON BOTSWANA SAFARI PRICES & TOURS